07 March 2002: OPENING OF THE MAASTRICHT ART FAIR
Every year, despite continued grumbling about the dwindling supply of great paintings, furniture and decorative objects available today, thousands of collectors, curators, scholars and auction house experts flock to this Dutch city and the European Fine Art Fair, where some 200 dealers from 13 countries offer their best.
Although there are fewer blockbuster paintings and objects than before, this remains the largest art fair in the world, with everything from a $40 million Rembrandt to first-rate examples of classical antiquities, modern art, diamonds, Oriental ceramics and 18th-century furniture.
From the minute the doors to the fair opened here this afternoon, museum directors could be seen shepherding trustees, while scholars hovered around art in deep debate and collectors inspected the offerings.
During the customary two days before the fair opens, when a committee of experts authenticates the works on display and the Art Loss Register checks for stolen pieces, a complement of Italian police officers arrived, taking digital photographs of artworks that they suspected might have been illegally exported from Italy.
In February 200, Frederick Schultz, a New York antiquities dealer, who was convicted in a federal courtroom in Manhattan of conspiring to sell ancient artifacts that had been illegally taken out of Egypt.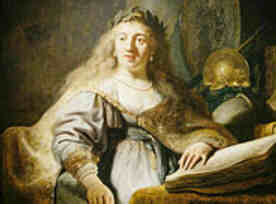 More than 50 people at a time were gathering behind a black rope to see the star of the show: Rembrandt's Minerva in Her Study (1635) [image >], which depicts a regally dressed Minerva, goddess of wisdom, with long blond hair, seated at a table, apparently distracted from a book she is reading. [a different 1635 Rembrandt Minerva]
"This is the last history painting by Rembrandt that will ever change hands," said Otto Naumann, the Manhattan dealer who wants to sell it for $40 million. It was last exhibited in 1956 at the National Museum in Stockholm for the 350th anniversary of Rembrandt's birth. Mr. Naumann bought the painting last year from an unidentified Japanese company and is asking $40 million for it. "At least four museums are trying to raise the money to buy it," he said, emphasizing that many American museums have no Rembrandts. "Most of the big ones only have his portraits," he said.
By the time the fair ends on 10 March 2002, nearly 80'000 visitors have come through the Maastricht Convention Center for an event vastly larger than any New York art fair.
The show boasts many exceptional artworks. One painting, A Young Turk Cutting Up Tobacco With a Gentleman Smoking in the Background, is by the Italian artist Mattia Preti (1613 – 13 Jan 1699), and shows a slave with a shaved head cutting tobacco. Jean- Luc Baroni, a London dealer, bought it at Sotheby's in London in December. "They had dated it to the 1630's and people were uncertain about its attribution," he said. His own research concluded that the work was painted during the artist's time in Malta, around 1660.
He has another painting, circa 1640, Lorenzo Lippi's Creation of Music, a portrait of Music, personified by a pretty girl, with her score resting on a spinet while she dips her quill pen into an ink pot. Her hand rests on an anvil and hammer, a reference to Pythagoras' ideas about the origin of music.
Among the old master dealers is Charles Beddington, whose three-month-old gallery, Beddington & Blackman, brought a pair of panel paintings by Johannes Hispanus, who worked in Italy from 1495 to 1528, which tell the story of the early life of Achilles.
This year modern art can be found in many guises. One of the most interesting works is Birds in Flight, a 1928 stone fresco by Brancusi (1876-1957) that is hanging at Dickinson Roundell of New York and London. James Roundell discovered it unrecognized in a London collection. The theme of birds in flight was a fundamental one in Brancusi's work. While few frescoes by Brancusi are known, several works relate to this work, including Birds in Flight, a watercolor. [Brancusi's sculptures Bird in Space (1923), Golden Bird (1920)]
One of the most talked about booths at the fair belongs to Kunstkammer Georg Laue, a Munich dealer, which is showing more than 100 memento mori, or reminders of man's mortality. They depict the fascination with the transitory nature of life and human frailty from the 16th to the 20th centuries. The works include a 17th-century watch in the form of a skull, a pair of early 17th- century Italian boxwood skeletons, a Japanese ivory skull with a snake tightly woven around it and a series of 1920's photographs of a young woman seduced by a skeleton. One of the show's most popular pieces is a wooden sculpture, circa 1520, of a monk standing with a skeleton.
— Other examples of Memento Mori or Vanitas (unrelated to the fair):
Giovanni Martinelli, Memento Mori (Death Comes to the Banquet Table)
Master M.Z., Vanitas (Memento Mori) (1503)
Pieter Boel:: Large Vanitas Still-Life (1663)
Abraham Mignon:: The Nature as a symbol of Vanitas (1675) [pas un sujet très mignon!]
David Bailly:: Self-Portrait with Vanitas Symbols (1651)
Gregor Erhart:: Vanitas (1500)
Harmen Steenwijck:: Vanitas (1640)
Nicolaes van Verandael:: Vanitas
Willem van Aelst::Vanitas Flower Still Life (1656)
Barthel Bruyn the Elder:: Vanitas Still-Life
Jacques de Gheyn II:: Vanitas Still Life (1603)
Jan van Kessel:: Vanitas Still Life (1665
Jan Lievens:: Vanitas Still Life (1630)
Jan Davidszoon de Heem:: Vanitas
Cornelis de Heem:: Vanitas Still-Life with Musical Instruments (1661
Pieter Claesz:: Vanitas Still-Life (1630) — Vanitas Still Life with the Spinario
Frans Hals:: Young Man with a Skull (Vanitas) (1628)